"Midnight Mass" is one of Netflix's newest takes at the vampire horror story; however, it isn't quite like other vampire stories. The show has much more lofty and thought-provoking intentions.   
The show centers around Riley Flynn (played by Zack Gilford) who returns to live with his family on Crockett Island after serving his sentence in jail. A new priest Father Paul Hill (Hamish Linklater) comes to the island with some miracles of his own. 
One of the main things that set the show apart from its contemporaries is its approach toward its themes and motifs, especially when it came to religion. Usually, in the media it slants one of two ways when it comes to religion, either you are for it, or you take a stance against it. "Midnight Mass" subverts this by having the show take place in a small, incredibly religious and rural fishing village. But one of the main characters is a man who has lost his faith. Through his interactions with everyone else in the small town and all the miraculous and terrifying things that happen in it allow us to see the two different sides of the same coin.  
What is the answer? 
The main idea posed by the show and what fuels the plot, is the question of what happens when we die? The beauty of the show lies in the way it shows multiple different answers and interpretations of what it means to be alive, and what it means to live, but while they are all different and distinct, not one of them seems necessarily wrong.  It shows that there is no one right way to view it, and in doing so totally subverts almost everything else in the genre before it. Instead of making you afraid of the dark, it makes you afraid of what could be.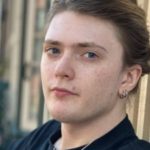 Max Wolfson is a 21-year-old journalism student who is originally from Pittsburgh.  "I like to think I'm pretty approachable and I love talking to people, and this semester you'll probably see me around asking people various questions," he said. He loves music, anime, video games and almost anything else creative. "If you see me around don't be afraid to say hi," he said.