A team of therapy dogs from GO TEAM Therapy Dogs Frederick helped students de-stress in early December in Frederick Community College's Student Center.
The team consisted of seven therapy dogs and their handlers: a chocolate Labrador named Clyde, a mini Goldendoodle named Giuseppe, a Maltese named Millie, a Bernese mountain dog named Otis, a Papillon named Welton, a shepherd and Labrador mix named Zeke, and an Old English sheepdog named Zoey.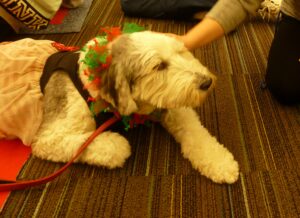 "We're all volunteers," said Francina Baldi, one of Giuseppe's handlers, "This is all community service work."
GO TEAM Therapy Dogs Frederick is the local branch of GO TEAM Therapy, Crisis and Airport Dogs Inc., a national nonprofit organization committed to giving comfort through bonding with man's best friend.
According to Baldi, therapy dogs "give comfort to people in times of crisis or stress."
Such as when FCC students are facing their fall semester finals and worrying about their grades.
Dressed in Christmas-themed outfits and accessories, some of the therapy dogs joyfully frolicked with students, while others sat still as stud
ents pet them. Regardless of whether they were energetic or calm, all the therapy dogs helped students relax. Throughout the room, the barking of dogs and the jingling of bells on their accessories mingled with the laughter and conversations of students.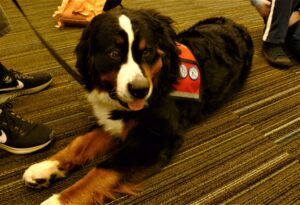 Zachary Bandler, a sophomore majoring in education, said that
the therapy dogs help him relax "because
you're just focused on petting them — nothing else."
Besides helping students in schools, Baldi said that GO TEAM Therapy Dogs also provides emotional support to different people in various other settings, such as courthouses, fire departments, and hospitals.
For instance, Baldi said that the team's next stop would be a local children's vaccination clinic, where the therapy dogs would comfort children who were getting vaccinated.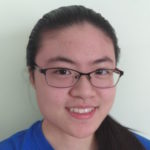 Amanda Tsai is a dual enrollment student at FCC. She enjoys drawing, reading and writing. Tsai hopes that by writing for The Commuter, she can expand her writing experience and be more involved with the community at the same time.