By Megan McIntosh

In January of 2020, any students who take the global scholar experience course will have the opportunity to take a trip to Italy. These students will go to such places as Venice, Florence, and Rome while seeing amazing sights like the ash-covered city of Pompeii.
To travel, students who sign up for the three-credit course must be 18 years old, have good academic standing, and pay for the trip. Christine Rai, who is organizing the course, feels that this experience will be fun as well as educational.
"There is something for everybody on this trip," said Rai. "I thought, 'OK, if this might be the only time in my life that I am going to go to Italy, what do I need to see?' That's why I picked this itinerary, because it is hitting almost all of the big sights in Italy."
Not only this, but a tour guide will be present throughout the entire trip to answer any questions and solve any possible problems.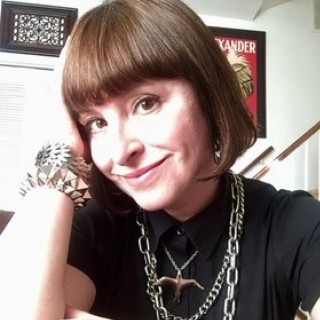 Although the sights are a huge part of the 10-day trip, the course mainly focuses on food. Students will be exposed to many traditional Italian meals during their time in each city.
"Food is a great lens to examine and experience culture. It's fun, it's concrete, it's something we can all relate to," Rai said. However, that is not all the trip focuses on. Students can expect to see many different forms of art and architecture, while also learning the region's history.
Since the trip is in January, the sites will be considerably less busy than in summer. In fact, the group will stay at a hotel in Venice, which is rare. Usually, people only go to Venice during the day, but Rai is excited to witness the way Venice comes to life at night. Yet, Venice is only a small portion of this intensive trip.
The Colosseum, Sistine Chapel, and Gates of Paradise are among the many landmarks students will visit. All of the sights are important landmarks which Rai feels will give great insight into Italian culture. However, she doesn't want students to get the wrong idea about the course.
"This trip is going to be a lot of fun, but it is also going to be very busy and tiring," she said, "This trip is not a vacation. If any students are signing up to party and relax, then this is not the trip for them." Instead, this trip is filled with nonstop experiences, the purpose of which is to build each student's cultural competency.
"This is an interdisciplinary umbrella study-abroad course. So what that means is, any student who is interested in doing short-term study abroad can take this class to learn about their own cultural formation and expression, learn more about themselves, think about how they interact with people of other cultures, and then actually set goals for themselves to better their cultural competency."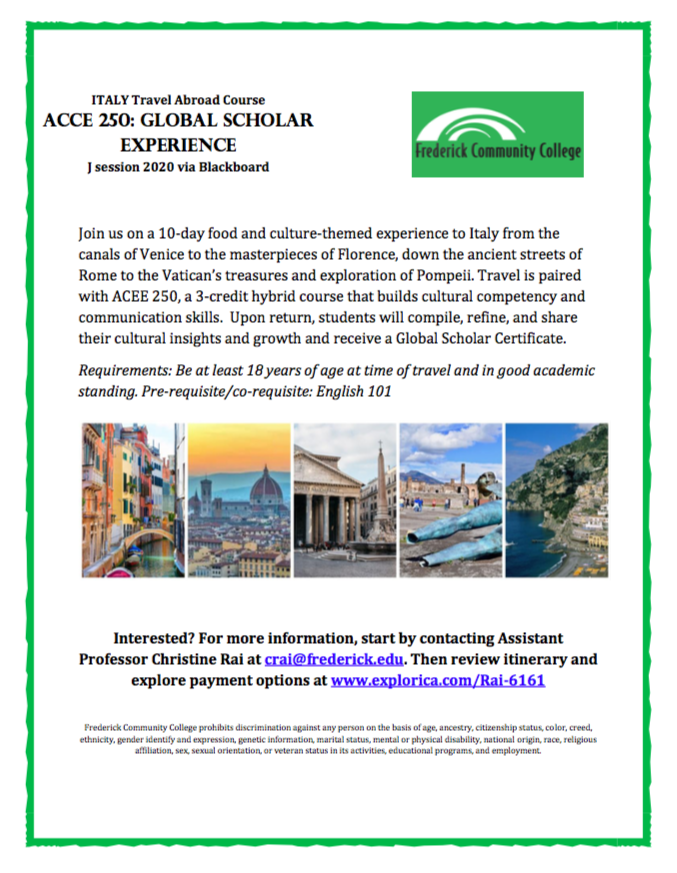 "While we are actually traveling, they'll get to see another culture first hand, interact with it, and apply some of those lessons from the course," said Rai. "Then, when we get back, they'll combine that coursework foundation that they had with their experiences traveling and make a multimedia presentation where they'll share their cultural insights with an audience."
The trip, aside from being fun and educational, also provides résumé benefits that may appeal to employers.
"Students going into a competitive job market can now put on their résumé that they did short-term study abroad in Italy and had direct cultural competency training," said Rai. Students who complete the course will also receive a global scholar experience certificate.
Overall, Rai feels it is important to focus on cultural competency, especially in today's world where things are more multicultural. In addition, exposing oneself to other cultures should help students develop a better understanding of their own culture and inner self.
Though the trip is expensive, the cost is nearly all-inclusive and includes round trip airfare, hotel cost, breakfast every day, and dinner almost every day. Also, it will cost around 500 dollars less than a similar trip that takes place in the summer months.
Paying for the trip will be easier this year because financial aid is now being offered. Students also have several payment options to choose from, one of which is monthly payments.
Interested students are urged to meet with their financial aid advisor to see what options are available in terms of loans, grants, and scholarships.
Rai encourages people to email her for more information and is eager to share the experience with students. She can be reached at crai@frederick.edu.