By Jake Nicholson
Have you ever heard of puppy therapy? If not, puppy therapy is an emerging form of stress relief. It is when someone or an organization brings a group of puppies or dogs on to a college campus to help relieve students of stress.
The most common time for schools to have puppy therapy is during mid-terms and finals when students are at their most stressed. Puppy therapy is a proven stress reliever that helps many students relieve some of the stress from attending college.
Though puppy therapy is already considered a valid form of stress relief, I wanted to see if the effects of puppy therapy translate to actually living with a dog for college students.
As a dog owner myself, I have personal knowledge of this subject.  I also studied and interviewed the interactions of three different students with their own dogs.
The observations and findings from every single person I observed and interviewed had pros and cons about the experience of having a dog as a student. In every single case, though, the pros always heavily outweighed the cons.
Kaily Huynh, a general study major at Frederick Community College, owns a West Highland Terrier.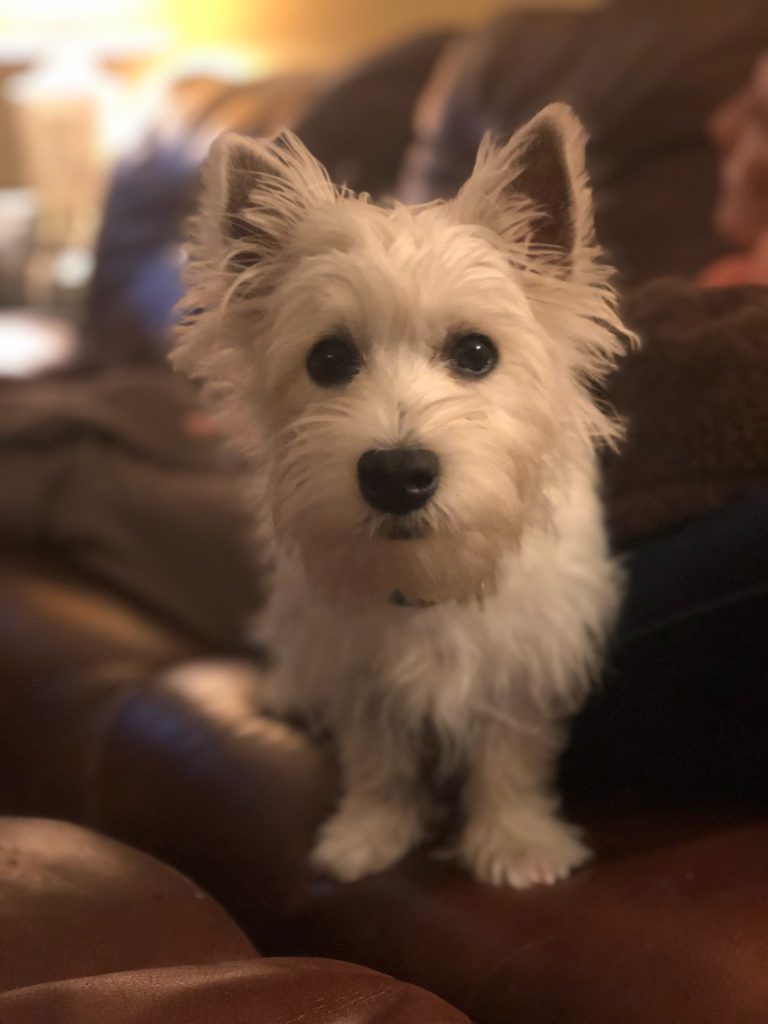 "He increases my stress level, he makes me very happy though," said Huynh about her dog.
Later in the interview, Huynh explained that the only reason that her dog increases her stress level is that fact that she must worry about what he is getting into.
Taking care of a young puppy can increase your stress levels because they tend to get themselves into trouble. For first time owners, this can be a very new and aggravating experience.
"He makes me feel a lot better when I see him after I had a stressful day at school," said Huynh. "When I'm angry, annoyed or just fed up, just looking at him makes me feel a whole lot better."  
Taylor Bowers and Kris Moon are a couple. Together, they own a Jack Russel Terrier named Theo, who is featured in the cover image.
Bowers, an early education major at FCC, elaborated about how the added responsibility of owning a dog can cause more stress for a student. But Bowers also shined a light on how that added responsibility can have a positive effect.
"Having a dog or a living creature puts the pressure on you to be responsible," said Bowers. "The responsibility I have gained from having a dog has translated to me being more responsible with preparing for school."
Moon, an information systems major at University of Maryland Baltimore County and a former FCC student, has always had dogs throughout his whole life. He is very grateful he has had these experiences.
"Always having someone happy that you're alive" said Moon when he was describing what he enjoys about having a dog.
Moon also went on to explain how training puppies has taught him to have more patience and caused him to be more understanding.
Overall, having a dog, especially if you are the primary caretaker of the dog, is a lot of work. No one should make the decision to own a dog without considering the amount of time and responsibilities that it entails. Getting a dog without considering if you can really take care of it can lead to a massive increase in stress for both you and your pet.
However, if you're able to make the commitment, having a dog can be one of the most rewarding and benefitial experiences one could ever have.