Members of Frederick Community College's Ceramics Club were playing with fire this week.
Club members were offered a unique experience Dec. 7, called Raku firing to apply to their pottery work.
Raku firing is a fuel-burned firing process adapted by Japanese culture in which the kiln is heated rapidly to around 1830 degrees F and then the piece is removed while it's still burning red.
The object is then put into a barrel full of flammable materials, such as leaves or straws. Then a lid is put on it, which creates an effect where the fuel in the barrel is unable to combust due to a lack of oxygen known as a "reductionist atmosphere,"  which affects the metal oxides on the glaze surface, giving a unique iridescent quality to the surface of the piece and creating special patterns. The firing event was originally planned for the club in November but, because of weather had to be postponed until December.
"The process was started hundreds of years ago in Japan for tea bowls for meditation in tea ceremonies," said Shane Sellers, FCC assistant art professor and adviser of the Ceramics Club. "Westerners (who) were visiting Japan saw this process and tried to replicate it, and some accidents occurred."
He explained that famous American artist Paul Soldner tried the process himself one day, but when he removed his piece from the kiln and still burning hot "fell on the ground and rolled into some leaves, which created a decorative impression on the pottery. From there, it slowly transformed this Japanese tradition into a Western process."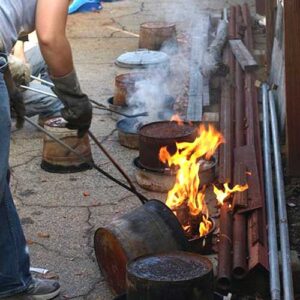 The Japanese originated history behind raku firing is extremely interesting, but it's not the only firing event the ceramic club performs for their pottery.
"The biggest claim to fame here at FCC is we have our own wood-burning kiln," Seller said. "We try to do one wood firing for both the spring and fall semesters. We also have Visiting Artist Workshops where we've done specialty firings based on what the guest artist might want to leave for the students."
The Ceramics Club, outside of firing, is mostly freeform in its activities, as explained by Samantha Mills, president of the club.
"We only meet about twice a month, and when we do, we normally just work on our own art projects," she explained. "But we do have events where we all work together. For example, for our community service project, we are doing a pottery painting workshop for staff on campus, so we're preparing pieces for that so that people can come in and paint them themselves."
The Ceramics Club, much like all the other clubs on campus, is open freely to any interested students, whether they wish to be an aspiring artist or dabble in a unique art form they may wish to transform it into a fun new hobby.
"You don't have to be in a pottery class to join or even well versed in it," Mills said. "You can get recycled clay at student accounts for just $5, and you can just come on down and mess around with it during open studio or club hours. I think it's a good experience, working with your hands is a good skill to have and there's a lot of science involved with the process, it's just very fun."
"The clubs are open to all students," Shane Sellers explains, "Students are welcomed to join the club, and later on, it becomes more participatory for them, so I think that's important for any student that wishes to join us."
Both Sellers and Mills welcome any interested students to join and hope that the ceramics club could be able to thrive on campus.
"The one thing that's difficult about a club, especially in a two-year school, is that the students may only be here for one or two years," Sellers said. "So the future of the club is dependent on the students here at FCC. But my hope is that there's active student engagement and that we will continue to be active in our visiting artist programs to keep that activity up. Club activities were diminished dramatically since the COVID-19 pandemic, so we're just trying to regain our student engagement here the best we can."