Frederick Community College students who want to know what it's like to run a restaurant get real hands-on experience through working at 200 Monroe Restaurant.
Located at FCC's Hospitality, Culinary & Tourism Institute (HCTI) on 200 Monroe Ave., the student-run 200 Monroe Restaurant is at the core of a capstone class for HCTI students.

According to Elizabeth DeRose, manager of the HCTI, the capstone class is "an actual class that operates a public restaurant."
It is one of the last classes taken by HCTI students that seek either a certificate or an associate degree in Culinary Arts, Baking and Pastry Arts, or Hospitality Management. The class provides students with an opportunity to gain practical experience by working in 200 Monroe Restaurant.
In the process, students apply "everything that you've learned in a real-live setting by rotating through different positions in a restaurant," said DeRose. "So you're cooking on the line, you're working in the back kitchen, and you're rotating through the front of house server stations to understand service and point-of-sale sale systems and things like that."
A practical learning experience
Kailah Caliskan, 19, is one of the HCTI students taking the capstone class. Her favorite part of 200 Monroe Restaurant is the opportunity "to interact with guests and to be able to serve them and to get that true, actual practice that you really need in the
restaurant industry."
Because 200 Monroe Restaurant is open to the public, students can interact with a variety of customers.
Anthonio-Mills, 57, is another HCTI student in the restaurant class. Although she did catering back in Ghana, she still learns new things in the restaurant class.
As an example, she said, "When you don't have some of the ingredients, you always improvise."
So then the next time she is missing ingredients for that same dish, "you know that 'Oh, if I don't have this, I can use this for this,' you know, and it's to come up with something better or good for your guest," said Anthonio-Mills.
At the same time, 200 Monroe Restaurant gives students a comfortable setting to prepare for a real-world restaurant setting.
"It gives you the learning opportunity and the learning space to get comfortable with the restaurant equipment, where in a real restaurant, it's down and dirty and you don't necessarily see all that pretty equipment all the time," Caliskan said when comparing her experience in the restaurant class to her experience working at the Hilton Garden.
"It's definitely different, but it's very similar because it is not with the exact restaurant crowd that you're with. You're with your friends and you're with FCC mentors that you've been with, it's very comfortable, it's a very comfortable setting to learn in."
But the comfortable environment is not a lax one. Olivia Williams, 17, said that working in the restaurant requires staying focused, as things can get really busy.
"You have to move more quickly because you don't want people to wait for their food," she said.
At the same time, she said, students must make sure that they are strictly adhering to sanitation and servicing regulations.
Even if the students are working with their classmates and friends, they need to remain professional while cooking because customers can see them in the open kitchen.
Williams said, "While the guests do know that we are a teaching kitchen and that we're students, they still give comments like in the real world and it is a good learning experience to know what you're going to experience when you take a job outside of HCTI."
Customer comments
Customers who dine at 200 Monroe Restaurant can leave comments for the students after a meal. According to Anthonio-Mills, students working in the restaurant receive customer feedback after each class.
"The comments that the guests give us made us improve our skills, upon our dishes, upon our service to the people," she said.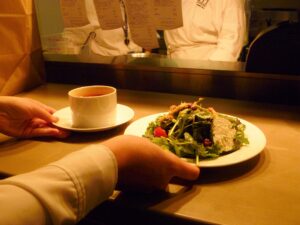 Reading customer feedback is one of Williams' favorite parts of the restaurant class.
"After each class, we read the comments, and we know what we need to adjust," said Williams
For instance, after receiving feedback that the beef brisket was very spicy, students started to verbally notify guests that the dish was spicy beforehand.
"Even though it says 'peppers' on the menu, we just let them know another time that it's spicy," Williams said.
A new addition
Starting from fall 2021, HCTI's baking and pastry students also contribute to 200 Monroe Restaurant.
"We developed a third program, Baking and Pastry Arts, and through a grant, we purchased a retail bakery case," DeRose said, "We stock that with freshly made bakery items produced by our baking and pastry students."
The bakery case is housed in 200 Monroe Restaurant, where customers can purchase the baked goods at the new retail bakery counter.
"There's a lot of pride and responsibility they have when they're producing their product now that they know it's going to be featured and sold to the public as well," DeRose said.
More than just a class
Besides giving HCTI students practical experience in operating a restaurant, 200 Monroe Restaurant also assists students by feeding the HCTI scholarship fund.
According to Williams, the restaurant staff does not take tips. However, customers that wish to give tips can fill out the giving envelope, which goes to scholarship funds for HCTI students.
Furthermore, 200 Monroe Restaurant "provides visibility to the community for our program," DeRose said.
Thus, the restaurant accomplishes multiple things: it gives HCTI students a practical learning experience that prepares them for the relevant industry; it informs the public about the programs offered by the HCTI, which helps build enrollment; and boosts the HCTI scholarship program.
"It's a gem of the college," DeRose said.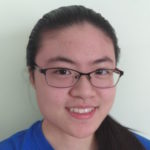 Amanda Tsai is a dual enrollment student at FCC. She enjoys drawing, reading and writing. Tsai hopes that by writing for The Commuter, she can expand her writing experience and be more involved with the community at the same time.