In early May, Maryland's confirmed caseload of covid-19 was nearing 30,000, and the death toll was nearing 1,500. Quarantine, also known as the "stay at home" order has been issued since March 30. This means we have been under quarantine for about six weeks to this date. And we really need some new ways to stay busy!
People in countries all over the world are being told to stay at home unless they need to leave for essential reasons. When leaving and entering public places, you are required to wear a mask for protection against Covid-19. Grocery stores, drug stores, doctor's offices, hospitals, and some retailers are still open for essential business.
This pandemic has caused a lot of us to have a tremendous amount of free time, as this shutdown has closed many places. With the close of the majority of companies, we are spending much of our time at home. This shutdown has also resulted in many people losing their jobs, which means more people sheltered at home.
Quarantine has been very hard for all of us, as it is a different way of life for us. The news stories and media coverage is mostly about the pandemic, which can be unhappy and depressing. And we are bored sitting at home looking for things to do to keep our minds off of this pandemic we are living in.
"I have lost my job for a few weeks so far due to covid-19. I am not used to having all this freetime at home. I have also been very stressed as weekly I must apply for unemployment due to my temporary job loss," my mom said with a stressed expression when I interviewed her at home. I am interviewing family members due to a lack of resources and people to interview because of social distancing.
Activities to do During Quarantine
It is a scary time. We are living in a real-world pandemic, where even large cities and countries are shut down. To help get your mind off of things and cure the boredom that is quarantine, I have come up with a few ideas and photos of things to do during this time.
1. Painting
Painting can be really beneficial as it helps to work on patience, concentration, and creativity. Painting can also be a really big stress reliever as it helps the mind and body relax and forget about stressors. You do not need much but a canvas, paintbrushes, and paint. You can find most of these items for cheap at Walmart. I decided to do two paintings. I painted a butterfly and a flower. A good place for art inspiration is to search #art on Instagram and Pinterest.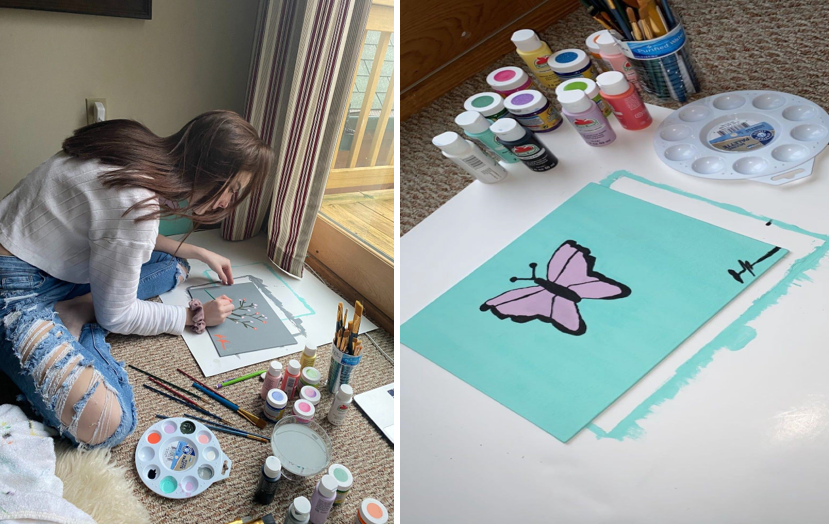 2. Baking and Cooking
When in quarantine, a majority of people have recorded eating more than usual. The most yummy activity to do is cook or bake, as you can eat it after! People find comfort in eating and find baking/cooking a good way to destress. There are thousands of recipes, making this activity able to be done more than once. I decided to bake an angel food cake and cook a shrimp salad. A good place to find recipes are on the app Pinterest and Foodnetwork.com.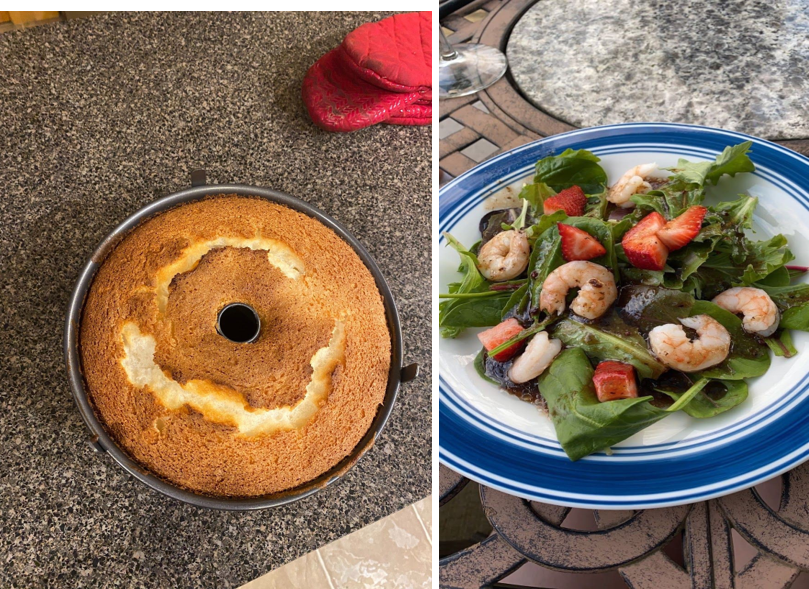 3. Take Photos
Just because Covid-19 is happening, does not mean spring is still not in session! With our nice springtime weather, it is the perfect time to get dressed up and take photos. Not only does this help with forgetting about the pandemic, but also it helps with your confidence. There are many trends online, but specifically a trend that started on Tik Tok of the mirror selfies have been blowing up during quarantine, so I decided to give them a shot and try it out for myself.
Apps to get photo inspiration include Tik Tok, Instagram, Pinterest, and any other social media platform.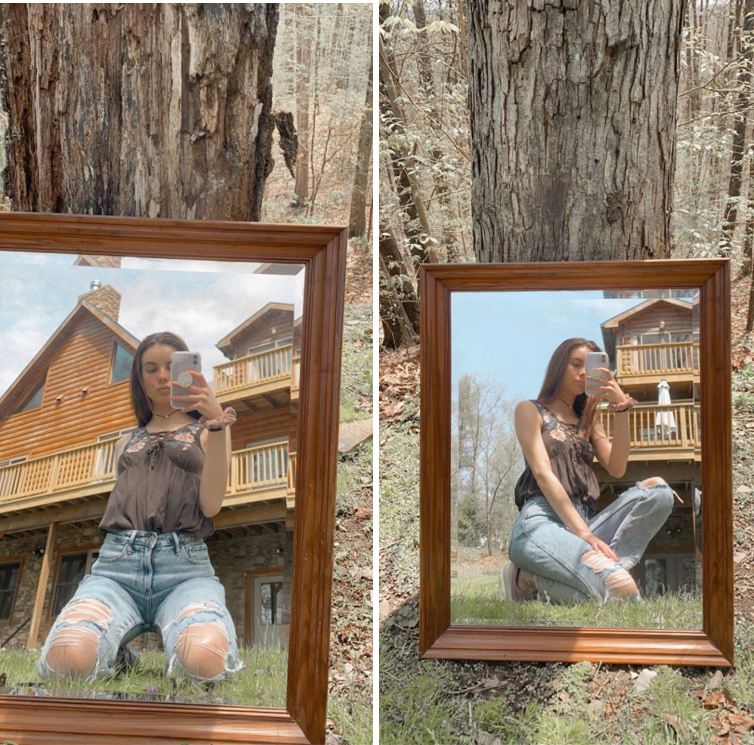 4. Yoga
Yoga has multiple benefits to us. Some of those include decreasing stress, reducing anxiety, having better sleep quality, and increasing your strength. During this time yoga can help you relax and can give you some exercise during this lazy quarantine. There are multiple yoga platforms, including DoYogaWithMe, the app CrossflowYoga, Fightmaster yoga on YouTube, and any yoga YouTube video. You can do yoga literally anywhere. Because I am quarantined at my family's lake house for a week, I decided to give yoga a try on my paddle board!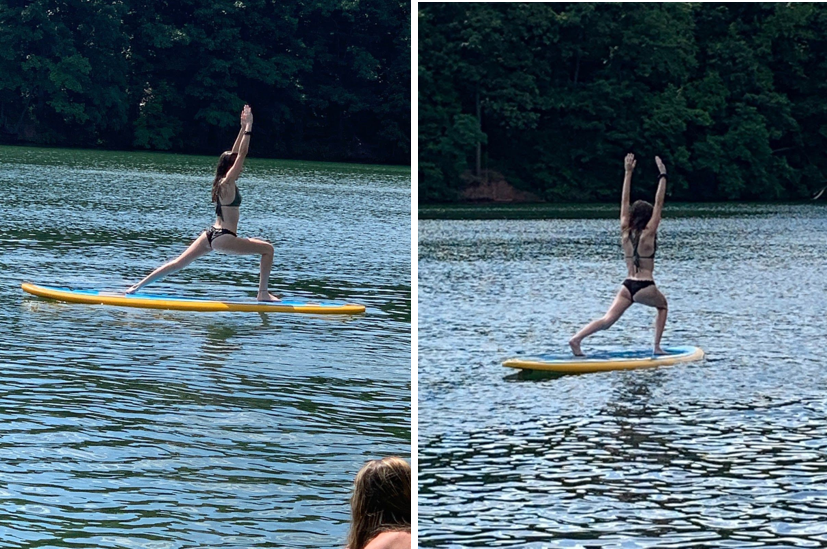 5. Video Chat
With Covid-19 being a mostly self-distancing problem, many people are forced to not see friends and family for weeks, and potentially months, until things change with the pandemic. This can be very stressful, scary, and depressing. Just because we cannot physically see our loved ones, does not mean we can't talk to them. In fact, there has been a tremendous amount of popularity with Zoom, where people can video chat more than one person. This is great for talking to family and friends, as well as doing activities like yoga, meditation, and other workouts if you are using the Zoom app. I have been Facetiming with my friend Olivia, because she is in Florida and I am in Maryland during quarantine.