Debra Ellis can often be seen in her garden walking her cats at her home in Hancock.
Ellis, a professor of chemistry at Frederick Community College, takes care of 11 cats  — Stephanie Marie, Samantha Louise, Clarence Thomas, Benjamin Paul, William Joseph, Roxanne Lynne,, Patrick James, Timothy Daniel, Clarice Michelle, and George.
"Bonnie loves to follow me around the yard while I'm gardening," Ellis said. "And George loves to help me in the yard, too."
A cat parade
Ellis said all her cats are either feral or have been rescued by humane societies. She said her cats are very good company. They have a tradition called the "cat parade," which started a few years ago when Ellis had several major surgeries.
While Ellis was in recovery, she would walk through her gardens, and her cats would follow her like "a herd of cattle or deer." The cat parade got its name because the cats would put up their tails with the ends curled like little flags.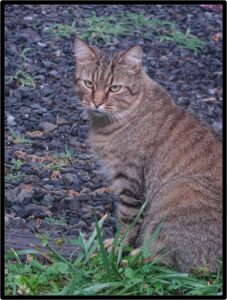 According to Ellis, seven or eight cats are in the parade. They walk from garden to garden for up to an hour when the weather is fine or after the professor teaches her online classes.
What is it about cats that Ellis wants to have such a large clowder? She said she likes that cats are playful and can form deep bonds. For instance, when the professor cleans her house, some of the cats like to attack the dust bunnies. A few of the cats like to play in the garden when not participating in the parade.
Cats have personalities 
Many of the cats have a story behind their names. For instance, Roxanne Lynne's first name comes from the first time that Ellis saw her walk. "She stood in place and did a little dance like she was dancing to music
like rock'n'roll music," said Ellis. Ellis remembers exclaiming, "Oh my goodness, you're my rock'n'roll kitten! I'll just have to call you Roxy."
Ellis said all of the cats have their own personalities. Take for instance, George, who is "very cute and charming but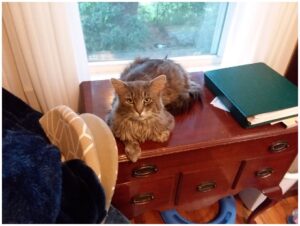 is beyond bratty."
Once, Ellis jokingly said, George was learning how to weed. He realized that he could pull up the weeds with his mouth. The professor, who was weeding beside him, was excited, but quickly realized that George didn't know the difference between flowers and weeds.
As a result, George pulled up several flowers she had just planted.
"George, enough weeding," Ellis remembers saying. "Let's go inside and have a treat."
According to the professor, George also likes spreading the mulch when he plays in the yard.
"He dives into it and spreads it all over the place with his front feet, making huge empty mulch circles," she said.
Ellis said she shows extra care to one of the cats, Timothy Daniel because he is battling heart disease.
"Timothy is a time bomb, but we've been waiting now a year and three months," she said. "I'm excited he made it that long."
The extra attention she gives him has forced a special bond. Ellis said Timothy is like a dog because he's "very cuddly."
"He gets a lot of attention," she said. "Everybody will tell you he's my favorite. Timothy is a joy. I dearly love him."