Frederick Community College sent out a lockdown emergency alert on the morning of April 6. This was in response to the shooting that took place near Riverside Park Tech area.
Active duty Navy member Fantahun Girma Woldesenbet apparently shot coworkers Casey Nutt and Carlos Portugal at around 8:45 a.m. He then drove to the Fort Detrick military base, where law enforcement stopped, shot, and killed him, hoping to prevent any further injuries. 
As police responded to the scene and informed the public, FCC sent out instructions to follow lockdown procedures, making sure students understood it was not a drill. We interviewed two students that received the alert; one who was home and one that was on campus at the time.
Alexys Stitely received the FCC lockdown alert via text message at 9:11 AM. Although she did not know what it was in response to, she quickly found out about the shooter through a neighborhood Facebook group.
"I was a little worried since it was near Fort Detrick and I know a few people that work there," she said. She was glad she had signed up for FCC's text message alert system.
Jack LeBlanc was using campus Wi-Fi at around 9:30 a.m. to get class assignments done when he saw that the FCC Twitter page had sent several tweets regarding a lockdown alert. He then checked the Frederick Police Department's Twitter and saw that they were responding to an active shooter situation.
"As soon as I became aware of what was going on I was scared," LeBlanc said, "People always talk about fight or flight, but there's that third response of being frozen, and wanting to stay exactly where you are."
He waited in his car until a little after 10 a.m., when FCC's Twitter informed him that people could return to normal operations, and then he drove home using Christopher's Crossing to get to the highway, still wanting to avoid Fort Detrick.
"Even though I think I saw one tweet that said there was no imminent threat, I just wanted to be as careful as possible." he said.
The constant in both student's experiences is that they were grateful for FCC's quick and diligent emergency response, as it helped them become aware of a threat that had an either direct or indirect impact on their academic and personal lives.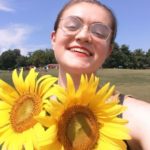 Hello! My name is Julia Broberg and I am majoring in Mass Communications here at FCC. I enjoy hiking, Motown, and writing. I'm very excited to be involved with this community and I'm so grateful for the opportunity to write about the great things that take place within it!