On March 7, CBS aired a sit-down interview between Oprah Winfrey, Meghan Markle and Prince Harry, where they discussed topics ranging from institutional racism to suicidal idealizations.
Throughout the past four years, since Meghan Markle began dating the Duke of Sussex, there have been levels of tension within the royal family about how the public perceives their relationship. The media was never particularly kind to them as a couple, especially Markle, but no one knew the extent of what was going on behind closed doors until now.
The information that was given during this interview is nothing short of shocking, and the exploration of it was helped by Oprah's journalistic talents. It starts as she walks with the couple through their "Chick Inn", just one of the many projects the couple has started since moving from England to the United States.
Markle begins by talking about how the media affected her situation. There is profound self-awareness within how Markle talks about media "polarity" in terms of her relationship with members of the Royal family like Kate Middleton.
"If you love me, you don't have to hate her" and vice versa, she said.
Next, they discuss how Markle wasn't necessarily allowed to act on her own accord in any sense; not even to see friends or speak up about inaccurate media postings. Oprah is able to transition into varying topics from whatever points Markle brings up, while still keeping the conversation flowing at an engaging pace.
It is established at this point that there is a difference between the members of the Royal family, and those that run the institution, as exemplified by how well she got along with the Queen when they attended press events together. She does not fault her for the discomfort she felt over the four years.
They proceeded to venture into the discussion of race as it related to Markle becoming pregnant with her son Archie not too long after she got married. She mentions that members of the institution were not only questioning the color of his skin, but his status as a royal, and his level of security, if he were to have any in the first place.
This culminated into Markle approaching her breaking point, as she describes it, and having severe intentions of harming herself. With topics as heavy as this, Oprah continues to recognize boundaries and pushes just far enough to understand the situation without creating discomfort.
Not too long after this, Harry joins the conversation and explains how he hoped his family would "learn from the past" in relation to what happened to his mother Princess Diana. In this regard, he is simply grateful to have his wife sitting next to him.
Lastly, the couple discusses what has been learned from the experience, and what they hope to carry with them. Oprah mentions their new company Archewell, and they talk about their hope to use it as a forum to get people involved in the issues they care about.
As they shared laughter, tears, and fears, a lot was revealed about the discrete nature of the Royal family when it came to controversial topics. Oprah assisted Meghan Markle and Prince Harry in touching on the negatives, but eventually focusing on the positives, and creating a safe atmosphere to share their story.

If you missed it live, CBS is streaming the full interview at this link, with advertisements.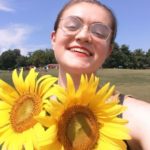 Hello! My name is Julia Broberg and I am majoring in Mass Communications here at FCC. I enjoy hiking, Motown, and writing. I'm very excited to be involved with this community and I'm so grateful for the opportunity to write about the great things that take place within it!