In case you haven't heard, the Washington Valor — D.C.'s fledgling Arena Football League franchise — made its debut on Friday night at the Verizon Center, and dubbing it as a success would put it mildly.
It was an auspicious spectacle, the equivalent to a walkoff home run, because if it hadn't delivered in the clutch, the year-long anticipation would fizzle and likely send it to the grave. The AFL had slumped to three teams after five franchises folded a summer ago. Then D.C. philanthropist Ted Leonsis — also majority owner of the NBA's Washington Wizards, NHL's Washington Capitals and WNBA's Washington Mystics — swooped in and took the league off life support, launching two new teams in D.C. and Baltimore.
The two squared off on Friday night, drawing nearly 16,000 fans, chanting, yelling, rooting, pumping their fists into the arena buzz during Valor's 51-38 win.
"This was our plan, to come out of the gate and present a product with what these league can be," Valor coach Dean Cokinos said. "We're the model. I tell you what, this was playoff atmosphere in our league."
Harrison Brown, who's covered the AFL since 2012, said it was the largest crowd he's ever seen for a league game. The exact turnout was 15,579, not far off the average attendance for other D.C. sports franchises who play at the Verizon Center (seats about 19,500). The Capitals and Wizards, both playoff teams in their respective leagues, average 18,506 and 17,002 fans for the 2016-17 season. The Mystics only draw 7,710 per night.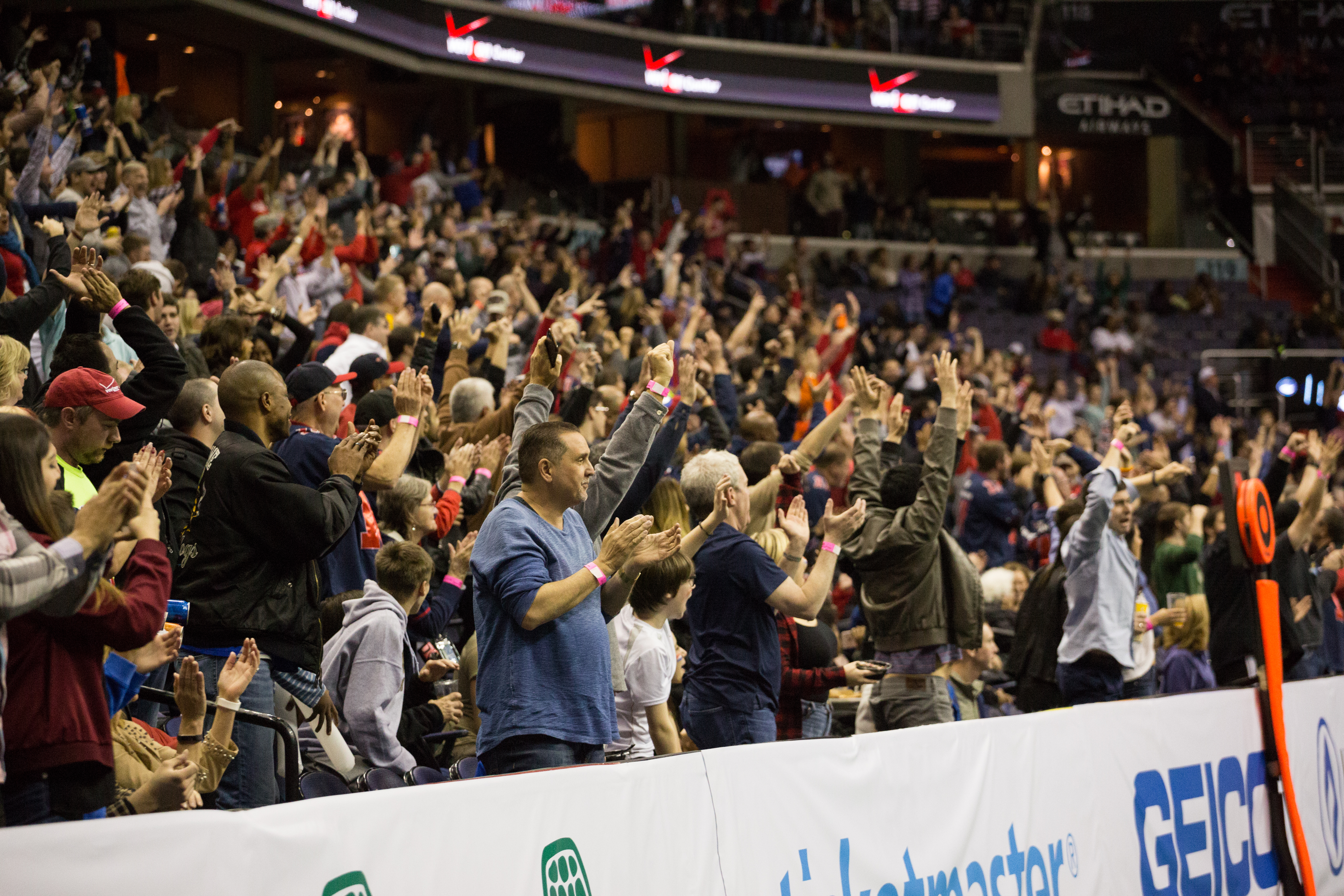 Some patrons doned Capitals, Redskins and/or Wizards gear. Others rolled with a shade of red, white and/or blue. Valor apparel came about sparingly. Season-ticket holders received special Valor jerseys, which read "Founding Fan" on the back.
In order for D.C.'s newest sports franchise to thrive and not fold up shop like five of the league's eight teams a year ago, it's going to need adequate support.
Kent Zakour, a born-and-raised D.C. sports fan and previous season-ticket holder for the Capitals, Redskins and Wizards, instantly jumped on the Valor bandwagon, purchasing season tickets for the 2017 season as soon as the franchise announced its arrival last summer.
"We were kind of more excited to see what it was like than what it was all about, rather than being true Valor fans, because it's such a new franchise," said Zakour, who is also a former sports writer for The Gazette, a defunct news publication that covered many parts of Maryland, including Frederick. "But having said that, I went with my friend, Chris. It was a fantastic time. It surpassed expectations … a very fan-friendly atmosphere, very affordable compared to other professional sports. … We'll be back, for sure. It also helped I was able to get a ball."
That's one of many unique opportunities the AFL offers: Allowing fans to keep footballs that enter the stands. And even though the rules are slightly different than traditional American football, at the end of the day, it's still football: Athletes grinding at the line of scrimmage, gun-slinging quarterbacks, swift receivers, bone-crunching hits, a pigskin football. Some things will take time to get used to, like the 50-yard field (NFL and college play with a 100-yard field) and eight players instead of 11. It's still four plays, 10 yards for a first down, and 15-minute quarters. For time's sake, there's a running clock and few stoppages. The pace is riveting.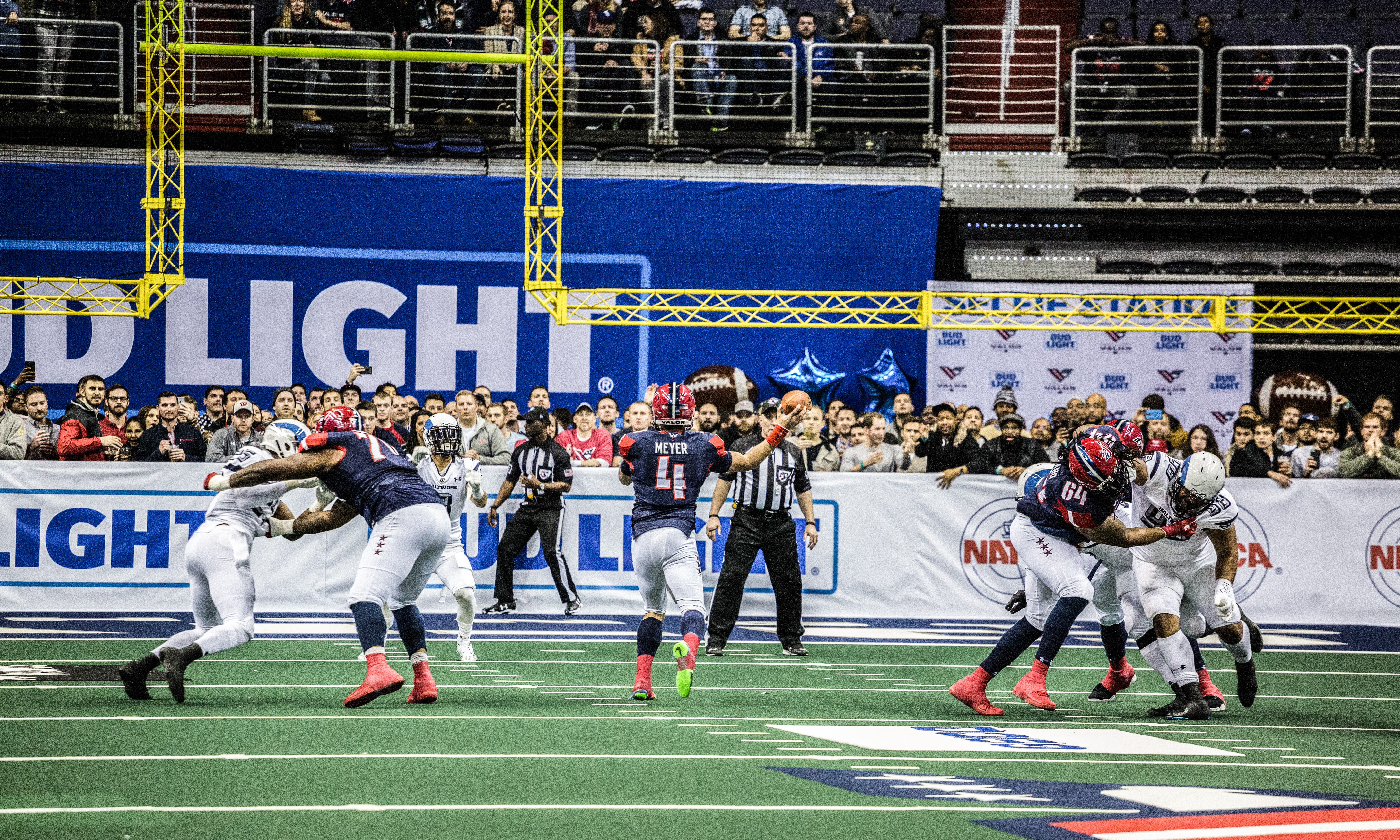 If I had a kid, I would take him/her to a Valor game, AFL game in general, any day of the week. First of all, it's cheap for a professional sporting event. Tickets start as low as $15. You can probably get a set of tickets for free by working connections. Second, you get the same adrenaline buzz in the stands as you would at a Capitals game, considered as one of the most electrifying atmospheres in sports. Third, chances are the crowds aren't as large. Getting in and out of the stadium will be less of a hassle, and that in itself makes the experience enjoyable. And lastly, the AFL opens their field at the end of games for fans to survey, with players available to sign autographs and take pictures with.
Before Mike Washington moseyed back to the dressing room on Friday night, and before we started our interview, two kids — brothers if you took a guess — tugged at his jersey, requesting for a photo and a signature on their pieces of memorabilia. Washington obliged, and the kids left the arena as giddy as anyone as I've seen in awhile.
For most people, minor league baseball games is the appropriate route for getting youth accustomed to sporting events. Seldom do you come across a kid experiencing his first live sporting event at an NBA, NFL or NHL game. Because of the market, the AFL will likely not surpass minor league baseball for that position. But that doesn't mean it can't sit atop the list in some households. Pay a little more, cope with the outrageous concessions prices, and you get to experience live, professional football in the midst of baseball season.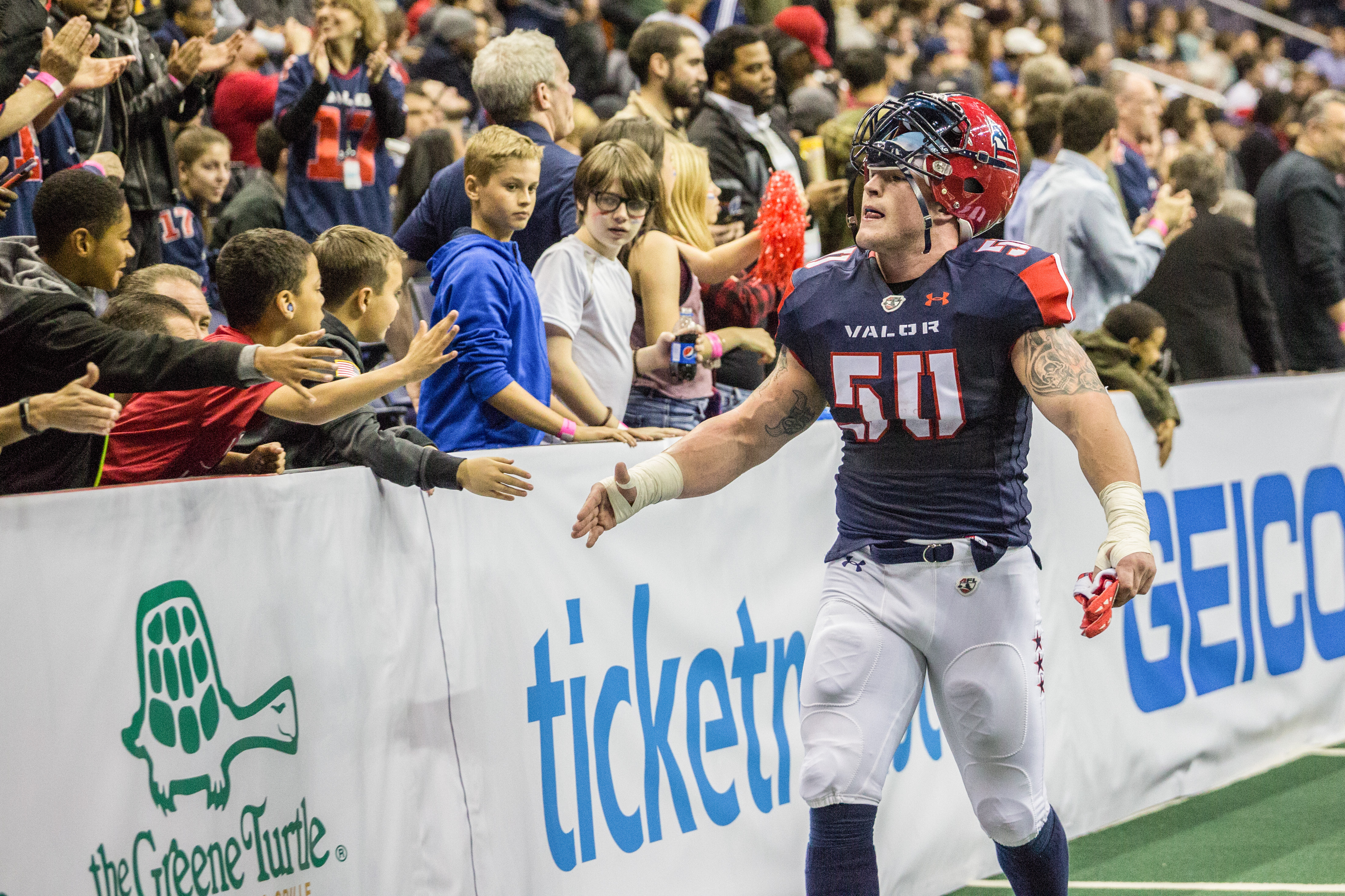 "It's the atmosphere," Washington, the Valor receiver, said. "In other leagues, the CFL, the NFL, fans can't come down to the field, get autographs, take selfies. They're not that close and engaged on the field. There's different nuances that's different than the other leagues. It's exciting. You can score in a matter of seconds. You got the nets, the walls. Fans can catch the ball and keep it. It's all those elements that make arena football so exciting."
To counter an excuse for not going to a game, people could say, well, there's no one player or two I can grow fond of and dub as a fan favorite. Sure, there isn't a Josh Norman, Ryan Kerrigan, Kirk Cousins, or Odell Beckham, someone even close to the same level of marketability. But there are plenty of names you can fasten to. Defensive back Tracy Belton, quarterback Erik Meyer and receiver T.T. Tolliver come to mind. Belton, who graduated from Largo High School in Prince George's County, is the league's reigning defensive Player of the Year. Meyer won the league's Most Valuable Player in 2013 and Tolliver is the league's all-time leader in receiving yards at age 40.
But even if the 15,000-plus fans who packed the Verizon Center on Friday night had not a clue under the sun who any player was, they were fueled solely by the D.C. sports crave.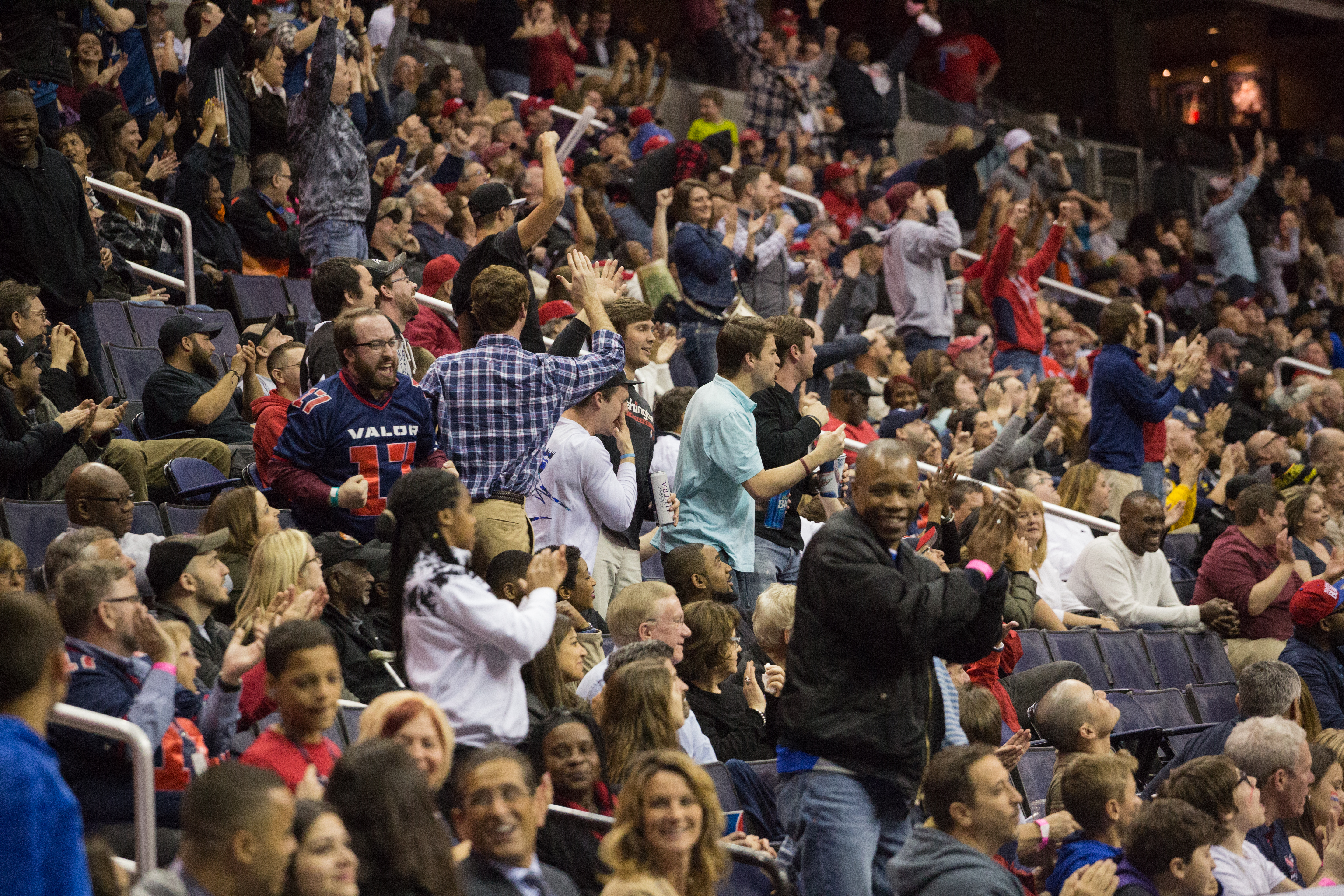 "It was loud, it was live. The crowd was very into it," Meyer said. "It was exciting to be a part of it. … Being in D.C., the community is very into their sports. So we expected a good crowd, but nothing like this, though. They came out and supported us; they were loud, they got into it. There were just as much a part of this victory as we were."
Players like Washington, who aren't accustomed to a D.C. sports atmosphere, was astonished.
"I really did not expect that," Washington said. "When I started with Pittsburgh, it was nowhere near this level, the atmosphere, and that was a brand new franchise."
Even Belton, who grew up on D.C. sports 10 minutes from the Verizon Center, was blown away.
"I wasn't expecting this crowd like this, I wasn't expecting that," Belton said. "They came out. When the game started, everything was packed. The crowd was into the game. Like the fans, can't get away from that. The fans were into the game. They had us going."
The same goes with Zakour, the lifelong D.C. sports fanatic.
"We were pleasantly surprised with how everybody was into it," Zakour said. "I'll be very curious to see if that carries on because [Friday] was the first game ever."
That's the next unknown: Will the buzz carry forward, or will the novelty fizzle? There's only one way to find out.
Just give an AFL game, a Valor game, a shot.
"I would say give it a chance," Zakour said. "That's all you need to do. I think it's one of those things like hockey. A lot of people don't watch hockey on TV, but if you go to the game, hockey is a great experience. I mean, obviously it's a lot different typical NFL or college football, but it is football. If you're a football fan, and need your football fix during the spring and summer before [NFL] training camp starts, it's a great opportunity. Just get to a game. Before you make any judgement, get to a game. I think you'll be pleasantly surprised."
---
Kyle McFadden is the editor-in-chief of The Commuter and has his own weekly column called K-Fadd's Cauldron. He also co-owns, manages and reports for Maryland Sports Access, where he covers many beats, including Maryland high school sports, college basketball and college football. He's also a freelance sports journalist for The Baltimore Sun and The Frederick News-Post, covering colleges and high schools.