BUFFALO, N.Y. — A fledgling journalist to the national reporting scene turned a corner and encountered a pack of reporters fenced around Villanova's Jay Wright, rattling off questions to the reigning Naismith Coach of the Year and national champion shot-caller. My 36-hour basketball jamboree at the NCAA tournament was in the closing minutes, and in fact, I was on my way out of Buffalo's KeyBank Center, ready to go back home. But in that moment, I thought to myself, "How many opportunities do people have to just walk up out of nowhere and initiate a conversation with Jay Wright, one of the most revered coaches in the country?"
The opportunity was mine for the taking, and one by one, the reporters who surrounded Wright fled. I asked a few questions around the handful of reporters who remained, then turned off my tape recorder and walked over to my satchel that I placed across the hall, ready to depart.
As I picked up my bag and ambled to the exits, Wright happened to be a few steps behind me, so I stopped, pivoted, stook out my hand for a handshake while making eye contact and simply said, "Thank you, Coach Wright."
Wright squeezed my hand with a gracious smile, and followed it with a pat on the back. He obviously had no clue who I was.
"Wait, where are you from again?" he asked me.
"I'm from Frederick, Maryland. I cover Mount St. Mary's," I answered.
He grabbed my arm, eyes widening as he leaned in.
"You cover them?" he asked. 
I nodded in affirmation.
"They're tough, real tough," Wright continued. "Don't they have their top seven or so guys returning for next year?"
"Oh yes," I answered. "Plus they're getting some recruits, too."
"Wow, man," said Wright, still in amazement of what the Mountaineers did to his Wildcats the night before — leading for 18 minutes, 36 seconds in the NCAA tournament round-of-64 contest on Thursday. No. 1 Villanova ended up winning, 76-56.
Wright and I continued our small talk for a few more minutes, chatting about each other's professions, our general love for the game and recruiting — especially how he pried NBA prospects Josh Hart (Silver Spring native) and Kris Jenkins (Upper Marlboro native) out of Maryland, along with other DMV recruits, such talent that could help end lengthy title droughts of local teams like Georgetown (33 years, last title was 1984) and Maryland (15 years, last title was 2002). My Terrapin-blooded veins couldn't let that one slide.
"Got to have a DMV, Georgetown pipeline," he answered.
We shook hands again before departing. I failed to tell him I picked his Wildcats to win whole thing in my money pool (probably should've because they lost to No. 8 Wisconsin the following day, exiling a chance of repeating and me nourishing my dry bank account). But none of the above — the cherry on top to my first ever NCAA tournament — signified what mattered most during that moment.
Frederick County, the pastureland covered sector overshadowed by neighboring basketball hotbeds in Baltimore, Prince George's County and the District of Columbia, forged a name on the biggest hoops stage in the world.
Tussling with Goliath
Wright and reporters alike who gathered across the world in Buffalo wouldn't stop talking about them. About how they built an early eight-point lead and led for all but 46 seconds of the first half. About how they stormed out of the second half to regain the lead, and after being down 16 points, whittled it down to 11 and hung around until the seven-minute mark.
Villanova, the defending national champions with NBA talent and superiority across the board, was supposed to smack Mount St. Mary's from the onset. But the little rural university from Frederick County tussled with Goliath.
Many will say it was a fluke, or that Villanova just played downright bad. Or those first 33 minutes, take it with a grain of salt. And the 21-4 run lasting from the 19:27 mark to 12:25, burying Mount St. Mary's, 51-35, is what should've happened all along.
Respect or not, they were one of a handful of teams to frustrate the champs this season.
"I wasn't surprised with the way we played in that first half [against Villanova], I know a lot of people probably were, but that's what our team did time and time again this season," Mount St. Mary's coach Jamion Christian said. "No matter the opponent, no matter the time, they stepped up to the occasion."
Christian continued: "We don't blow anybody out, but we don't lose a lot. We have that confidence we can win, and then going out and doing it against the very best and putting [Villanova] in that same kind of predicament in the first half, it just shows how good we can be here."
Only five teams (Notre Dame, Virginia, Butler, Seton Hall and Wisconsin) led more minutes in a game with Villanova this year, and the Wildcats played 36 times.
"That's a big stat," Christian said.
Sophomore guard Elijah Long, while showing humility in playing the top team in America, repeatedly called Villanova "just human beings" and the round-of-64 game last Thursday "just another game."
It's not disrespectful if you see through their lens, an undaunted perspective of handling the most epic task of them all, especially since a 16-seed is 0-130 against top seeds in the NCAA tournament.
After last Thursday, however, the faith that it can be done is imminent, all because the Mount believed.
"[We] didn't [win], but I'd like to think we're starting a trend with what we did there in the first half," Christian said.
Wright agreed.
"It's going to happen, man," he said. "It's going to happen. We could feel it. [Mount St. Mary's] had a good gameplan against us. They had small guards, they held the ball until the end of the shot-clock. And the way it worked in the first half, if that would've worked in the second half, then who knows."
Really, though. Who knows what could've happened if a few more shots dropped. The same could be said about Villanova, but we're talking about Mount St. Mary's.
Junior Robinson and Long, both 40 percent 3-point shooters, combined to shoot 25 percent (3-for-12) from behind the arc, and freshman Miles Wilson, shooting 46 percent on the year and 37 percent from deep, only made 7 of his 20 shot attempts and 2 of 9 attempts from deep (29 percent).
The target for 3-pointers made was 12 or more. They only made five. Add seven more, that's 21 extra points. They lost by 20.
"They just didn't fall, man," Christian said. "But I thought we put ourselves in the right spot, sometimes they just don't fall in."
Newfound fame channeling inspiration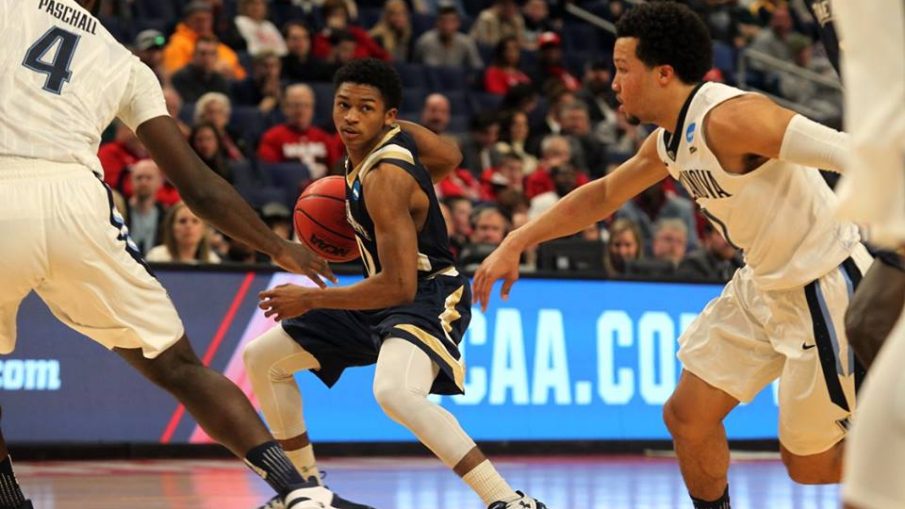 Moments after Robinson finished chatting with hall of fame broadcaster Verne Lundquist after last Wednesday's practice, he beamlined to the tunnel of KeyBank Center, racing back to the locker room to rest his aching body. If this was a couple weeks ago, he would've strolled by unnoticed. But life has changed for Robinson, Mount St. Mary's dynamic 5-foot-5 point guard, most known as the shortest player in Division I college basketball. After getting national publicity by almost every sports media outlet under the sun for his 23-point outing against New Orleans in the First Four, which included the go-ahead jumper with just over a minute to go, he's become an overnight fan favorite.
"Junior! Junior!" a group of kids shouted in the stands as Robinson approached the tunnel. "Can we have your autograph?"
Robinson obliged, scribbling his signature on numerous pieces of merchandise.
"I love the kids," said Robinson, even if they only admire him for his height, something that leaves the floor general uneasy and motivated.
Robinson continued to sign before one of the kids told him "I've got you guys going all the way in my bracket."
The meaning beneath the statement can be interpreted in many perspectives. It's another example of how Robinson and like his teammates have forged names for themselves. That Tuesday, Sports Illustrated released their March Madness edition, and Robinson was one about hundred players across the nation on the cover.
"I have those magazines from watching other people be on there," Robinson said. "Then, I'm like, 'Uh, never imagined I'd be on the cover.'"
Robinson, a fan favorite and go-to guy for reporters back at home, quickly became the center attention in the national press. Along with Sports Illustrated, local papers like The Buffalo News and The New York Times released articles on the 5-5 guard, highlighting his unique height. Again, it annoys Robinson in a sense, but it's something he embraces.
"This past NCAA tournament was the first time I was like, 'alright, this is a lot to deal with,'" Robinson said of the national media attention. "I knew it was going to come, [the questions about my height]. I just didn't know it was going to come 30 times. That was the only hard part about it. I'm like, 'God, I feel like I answered this 10 minutes ago.' But that's what they want to hear."
Robinson continued: "I got to play my game, and people get to see it. They get to say, 'Who's this short guy?' It gives me a chance to get more known, gives me a chance to maybe make the NBA, or who knows."
Along with Robinson, Long and Wilson received recognition from revered members of the media. Dick Vitale, famed basketball coach and ESPN announcer, tweeted "Remember the name: Elijah Long." Clark Kellogg, lead college basketball analyst for CBS Sports, called Wilson "one of the top freshman to watch" in the NCAA tournament.
"We're putting the tiny school from Emmitsburg, Maryland, on the map," Robinson said. "That's what we want to do."
The national limelight is nice, they'll admit it. But back at home, a county who hasn't won a boys basketball state title 18 years and is predominately known for corn rather than their local hoops, is touched by it all.
"You want to be that program in this area that inspires people they can do great things," Christian said. "We want to inspire [Frederick County] that the Mount is a great school. We want to inspire them that this is a great basketball program that we have. I think that's really important for people for understand: We want to be connected with Frederick.
"We want kids to meet Junior Robinson and have Mount jerseys and Mount shirts."
NEXT: Oakdale grad Zach Thomas sees dream come true in NCAA tournament appearance
---
Kyle McFadden is the editor-in-chief of The Commuter and has his own weekly column called K-Fadd's Cauldron. He also co-owns, manages and reports for Maryland Sports Access, where he covers many beats, including Maryland high school sports, college basketball and college football. He's also a freelance sports journalist for The Baltimore Sun and The Frederick News-Post, covering colleges and high schools.