Students who are not sure of what they want to do after college have the opportunity to explore opportunities with STEM Career Meet Up.
The STEM (science, technology, engineering, and mathematics) Career Meet Up from 3:30 to 5:30 p.m. Tuesday, Oct 25, at FCC Student Center Cafeteria, there are going to be around 12 companies representatives, from AstraZeneca to the U.S Navy, that will be setting up a booth and handing out information about their own companies, possible job opportunities or internships, and even giveaways.
Students have the opportunity to go up to these booths and talk to different representatives of these companies and gain knowledge and explore certain careers from these companies.
Anne Scholl-Fiedler, coordinator of the STEM Meet Up and a part of FCC's Career Services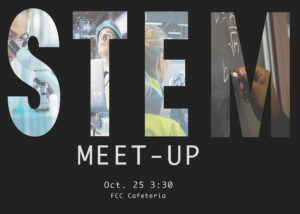 said the purpose of the event is to "help people explore opportunities in STEM, find out possible internships and career opportunities, and begin networking with industry representatives."
Since the pandemic and social distancing, it has been a lot harder to develop the skill and experience to go out and network with people and actually connect.
"This is a way for people to ask questions in an informal environment and begin that craft of being able to network and acquire new connections," Scholl-Fiedler said.
Networking plays a vital role when it comes to any career, and at this meet-up, people have an opportunity to learn and gain that experience.
"The Women to Women mentoring program is going to have a table there, too," she said.
Women Mentoring Inc. helps women students in STEM connect to a professional in a STEM career as a mentor and role model. They will be speaking to the women who attend this event to give them more information about what they do in their program and how that can help them navigate their way in a male-dominated field.
Another company scheduled to attend is CenCore LLC. They have a program called the National Security Program that actually assists students in obtaining a security clearance, so they can connect them to contract work. FCC's Bio-Technology Program will also attend because they have an apprenticeship program.
Although there are a multitude of STEM majors at FCC such as engineering, mathematics, and science, there are also a lot more students that don't know what exactly they are planning for in the future
"Good opportunity to explore options within STEM but it is also open to any student including general studies or students who are exploring majors," Scholl-Fiedler said.
Although the Meet Up is to promote awareness of careers in STEM, this event is open to everyone.
"Everyone should come," Scholl-Fiedler said.