Many student-led clubs and organizations at Frederick Community College ceased to exist in March 2020 when COVID-19 put a stop to students on campus. These clubs are a major part of life at FCC, allowing the students at this commuter campus to connect and socialize with their peers.
Now that students are slowly coming back to in-person learning, these clubs are beginning to welcome new students to their ranks again. However, the transition has been difficult.
COVID and clubs
Rebecca Booth, 19, is the student leader of the Campus Crusade for Christ Club, where members can give prayer and discuss different Bible scriptures with other members. She has been involved with the club since August 2020.
With eight active members, Booth said they have yet to have an in-person meeting. With hopes that they will be able to meet face-to-face at some point this semester, Booth said in-person meetings would probably take place outside.
Booth said one of the major differences between online and in-person Christian clubs is that "it's harder to experience devotional online."
However, Booth does believe that being virtual may be easier for some of the members because if they feel like they need an impromptu meeting, "you can just send them a link and you're talking to them,"
Virtual vs. in-person
Other clubs also mentioned how it is easier for some to commit to virtual meetings over in-person.
FCC Gaming Club President Salman Ahad Jamil, 19, has already seen an increase in members since COVID-19. With 19 current members and upcoming virtual meetings, "there's actually more members since the switch to virtual," Jamil said in an email.
The Gaming Club is focused on bringing FCC students together who are interested in video games or tabletop games. Jamil has great hopes for the future of the club.
"I can see the club getting involved in eSports and hosting gaming tournaments in the near future," Jamil said.
The Biology and Pre-Health Club also has big things planned for the upcoming semester.
Now with 12 active members, the Biology and Pre-Health Club, which helps STEM students learn more about the career fields they are interested in, has started to have in-person meetings again.
Co-Presidents Christina Sherwood, 19, and Liu GeZhi, 19, discussed their plans to have various STEM career professionals come and talk to the club this semester, as well as transfer students from different institutions to answer the students' questions.
However, Sherwood is concerned about the speaker's availability. In regards to last year's virtual meetings, "it was almost easier to get speakers for our meetings because they didn't have to commute or anything like that," she said.
Sherwood and GeZhi have been working hard to get the club up and running again since they were the only members when they joined last year. Sherwood described how they advertised as much as they could on social media, around campus, and even asking various professors to tell their students.
"Being in-person has definitely made it a lot easier to get the word out," Sherwood said.
The future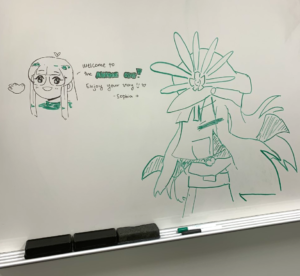 Many of the Student Clubs at FCC have struggled to get up and running again after the pandemic.
This semester marks the first time the Anime Club, which is open to students who love anime, manga and other Japanese media, will host in-person meetings since the spring of 2020.
According to Aaron Clayton. professor of English and Anime Club adviser, despite the difficulties of getting the club up and running again, the students themselves have made the job easier.
"I have students who are putting what seems like hours of their time into making sure this is a welcoming community and that's really special to see," he said.
Although the Anime club has seen a dip in numbers since they were at their peak before the pandemic, with 14 current members involved, Clayton is hopeful their numbers will build up again.
"It's probably going to be more popular than it was in the past judging by the amount of interest we currently have," he said, " and perhaps that's just the result of all of us being so secluded for so long that students, and all of us, are desperate for some kind of communities to form."