Educators have been the unsung heroes during the pandemic.
When the pandemic hit in March of 2020, educators had were forced to restructure their entire system of running a class. Virtual learning became the new buzzword and teachers had to adapt. While still leading students teachers had to learn how to transition from in-person to online, often behind the curve of their students.
Joseph Kozier, an adjunct history professor at Frederick Community College, said he's faced numerous challenges as he transitioned from in-person to online classes.
"It's much easier to get distracted online, even for me," he said. "… many students would end up turning their video off making it impossible to tell if they are actually using the bathroom like they said or not."
Kozier said he totally restructured how he organized and graded his class, the pace of his class and the actual reading of his class. However, he said. didn't let these daunting changes deter him.
"I teach at a much larger school also," he said, "and FCC did a much better job making sure I was prepared to transition online with instructions and meetings to help me learn how to set up online learning"
Online or in-person?
The pandemic hasn't been all trials and tribulations, it has come with its own set of small benefits for teachers. When it comes to working at home. Kozier said, it's "a lot more relaxing, you don't need to get dressed, don't need to travel, you can work from your couch with your pets."
The increased comfort level however was a double-edged sword. He said student retention online is lower and harder to maintain.
When asked to choose between the two, Kozier simply had to side with in-person classes. He currently is teaching in-person at FCC.
"While online is nice and relaxing it's hard to stay focused even for me and student retention is much harder to keep track of with no cameras on," he said.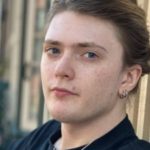 Max Wolfson is a 21-year-old journalism student who is originally from Pittsburgh.  "I like to think I'm pretty approachable and I love talking to people, and this semester you'll probably see me around asking people various questions," he said. He loves music, anime, video games and almost anything else creative. "If you see me around don't be afraid to say hi," he said.