As Halloween draws near, get into the spooky atmosphere with Movie Night.
The horror film "Us" will be shown at 6 p.m. Thursday, Oct. 28, in Frederick Community College's Black Box Theater. Sponsored by the Film Club and the Culinary Club, Movie Night is free and open to all.
"Us" (2019) was written and directed by Jordan Peele. the story of a family who during their beach vacation are terrorized by their doppelgängers. The film is rated R.
According to Film Club Vice President Lily Fitzherbert, the club plans to run the film without any breaks. Refreshments will be provided that include baked goods from the Culinary Club. The food may be eaten inside the theater so long as the audience puts their masks back on after eating.
"We're trying to have this feel like a real movie night," Fitzherbert said.
The film "Us" was selected by vote at the Film Club's first meeting, she said. The vote was based on movie trailers and past knowledge about the movies.
"We had a few people that were there and I gave them some options that were kinda like Halloween-themed," she said.
According to Fitzherbert, the Culinary Club reached out to her at the club fair and asked to take part in Movie Night, offering to make refreshments for the event.
"And I thought that was a great idea, and one of the big things that Film Club leaders and I have really talked about is trying to be part of the community and really unify all the clubs on campus."
Fitzherbert also said the Film Club plans to sponsor more Movie Nights in the future. She looks forward to having another Movie Night in November.
"Especially if this one's a hit, one of the things that I really want to do is make them all open to the community as well," she said.
Fitzherbert said the Film Club is willing to receive film suggestions for future Movie Nights. Students who wish to suggest films can contact the Film Club by emailng the club's adviser Jason Santelli at jsantelli@frederick.edu.
According to FCC's "Student Clubs and Organizations Handbook," all FCC clubs are required to do one service project per semester. Although this Movie Night was meant to be the Film Club's service project, Fitzherbert said, "I want them to be able to be free and fun for everyone to come."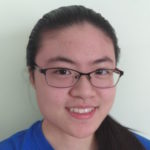 Amanda Tsai is a dual enrollment student at FCC. She enjoys drawing, reading and writing. Tsai hopes that by writing for The Commuter, she can expand her writing experience and be more involved with the community at the same time.