By: Kaitlin McCallion
Mark Price and Jeffrey Buhrman, custodians, were greeted with an unpleasant surprise when they arrived for their typical night shift at Frederick Community College on Monday, March 11th. Upon arriving in the Student Center, the men were shocked to find one of the lounges filled with trash and other debris littering the space.

Price and Buhrman promptly sent pictures of the wrecked space to Jeanni Winston-Muir, Director of the Center for Student Engagement, who was enraged at what she saw.

"We had a big event on Monday, a club fair, and so we had a lot of events and activities going on that day," said Winston-Muir. "When I had walked by the lounge around 2:00, it was looking a little seedy, but I gave them the benefit of the doubt because no one would leave the lounge looking like that. So, I was completely blown away at 6:30 when I saw the stuff that was still sitting on the table from 2:30. It was there all day and never cleaned up."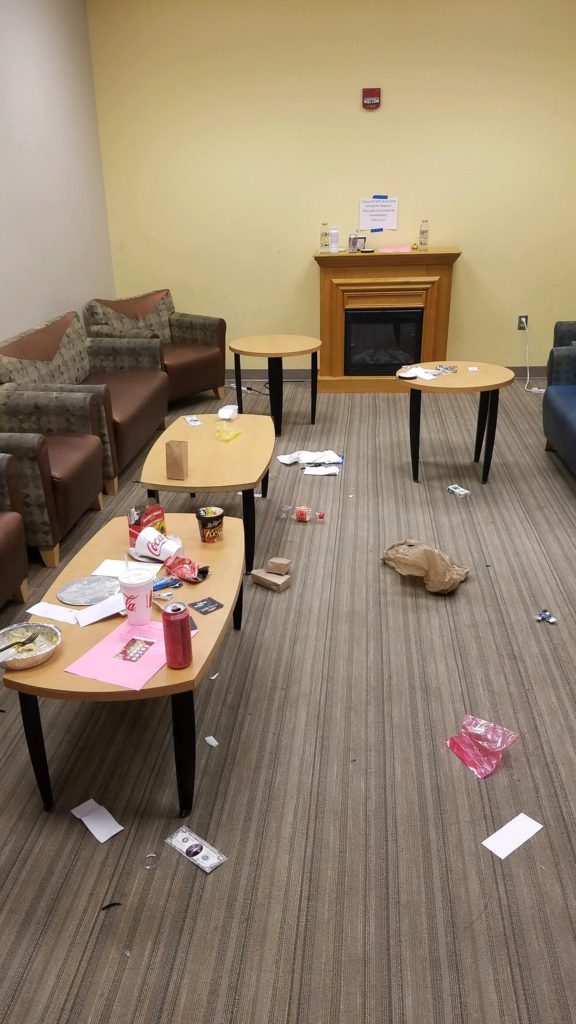 Winston-Muir decided to close off the "Fire Lounge" for the week, securing the entrance with yellow caution tape and a sign directing any students with complaints towards her office.

Many students were upset and claimed that they were being denied their fundamental rights to a social space as students of the college and contacted Winston-Muir to express these complaints.

"My perspective is that we fight to have this space and create spaces, social spaces, for students because that's the work we do in the Center for Student Engagement," said Winston-Muir. "Social life on a college campus is hugely important, and so, we fight for spaces on campus. But, if it's left like that, that serves nobody. If we're saying we're attracting a kind of element that just wants to trash something and make staff clean it, that doesn't promote a positive learning environment."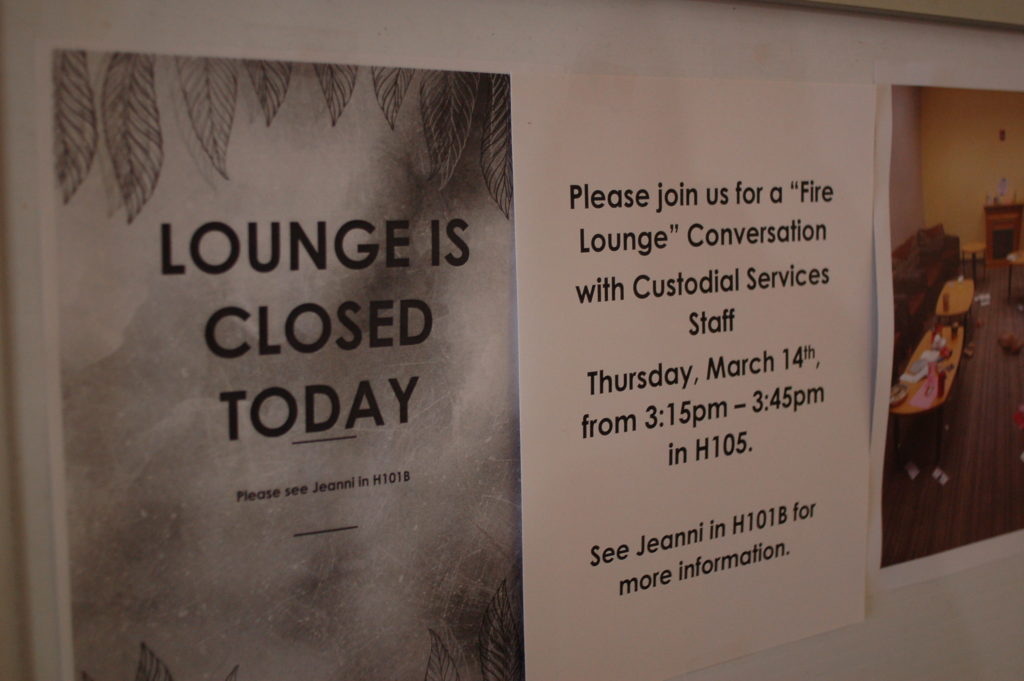 Winston-Muir scheduled a meeting for Thursday afternoon at 3:15 where students could meet the faces who clean up after them and apologize for the instance.

"It's an opportunity to have a conversation with students about behaviors and the impacts that behaviors have on so many people that they may not have even considered," said Winston-Muir.

During the meeting, held in H105, Winston-Muir explained to students why their actions were viewed so poorly by the faculty and staff of the school, and what they advise to do if a similar situation arises again.

Many students attended the meeting and expressed their apologies to the Custodial Services staff. A few students made a card as well and presented it to Price and Buhrman.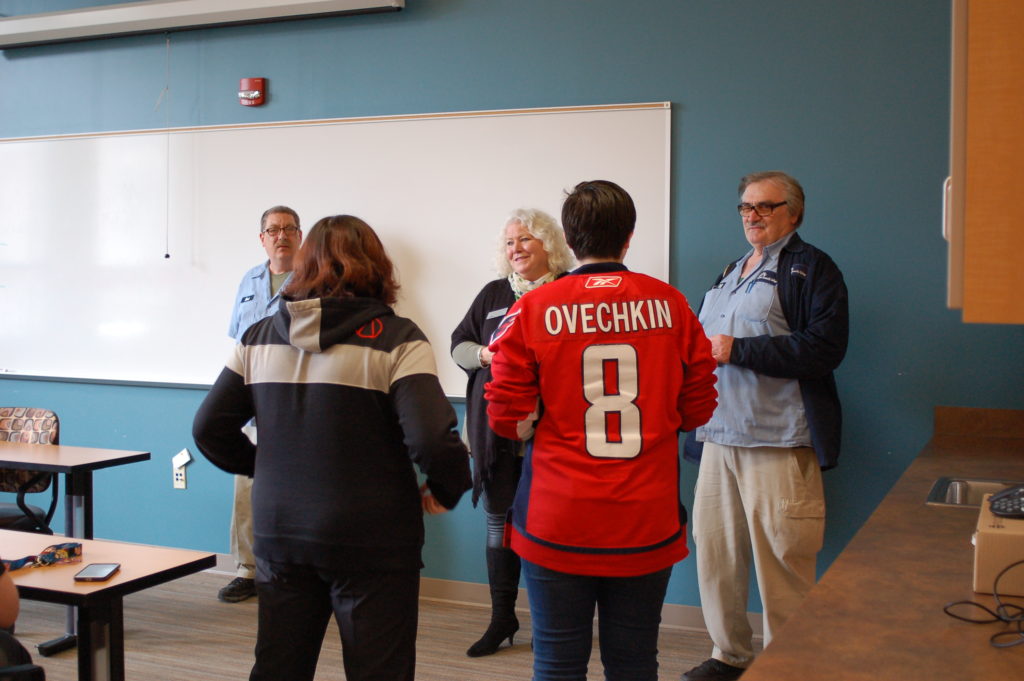 In the future, Student engagement encourages students to clean up after themselves and speak up or do their part to lend a hand when someone else does not.

"We have Custodial Services staff that try to make this a clean and safe environment for all students," said Winston-Muir. "They clean every night, but this is not their job. They are not supposed to throw trash away for adults."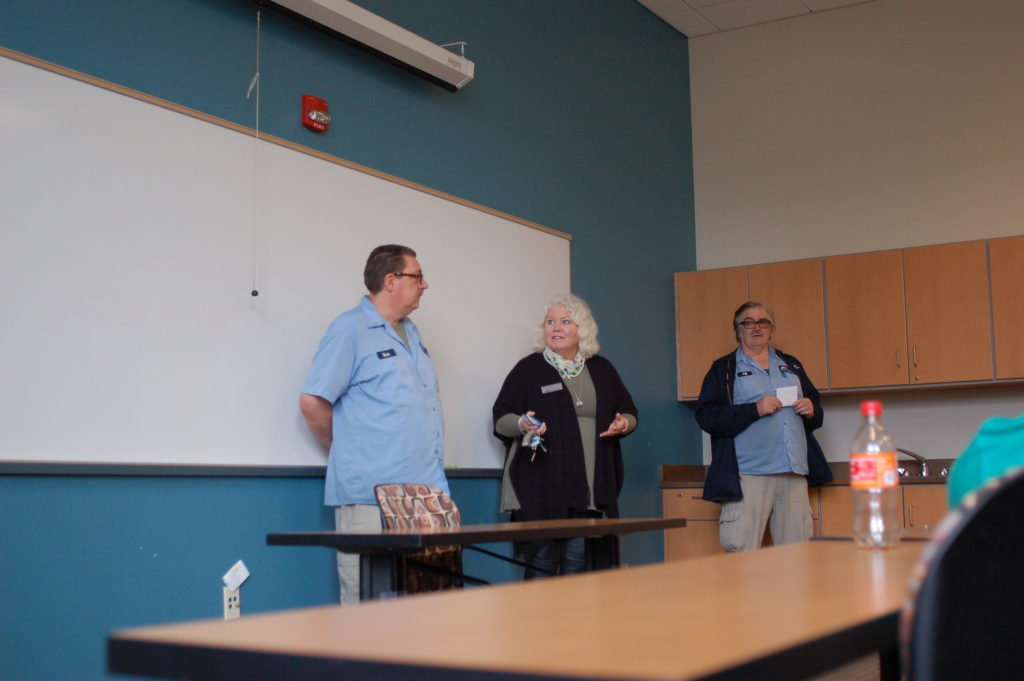 The lounge will be reopened Monday, March 18th, but Student Engagement hopes that this experience has been eye-opening for everyone involved and that students will feel empowered to say something, or find someone who will, if they see a mess moving forward.