How a walk in the park can raise awareness for suicide prevention.

By: Kaitlin McCallion
Out of the Darkness: Walk for Suicide Prevention was an event to raise funds and awareness for The American Foundation of Suicide Prevention (AFSP). Over 1,000 people attended, including parents, children, and furry friends. The large groups stopped traffic as they walked through downtown Frederick on October 20th in solidarity of mental health.
Frederick Community College has helped sponsor the event for a few years and Jeanni Winston-Muir, executive director of student engagement and learning support, has attended every time.
"I have seen way too many students suffer from depression and suicide ideation," Winston-Muir said. "By participating in the walk, and inviting others to join me, I feel we are able to cast light on the topic and help promote a message of hope and help."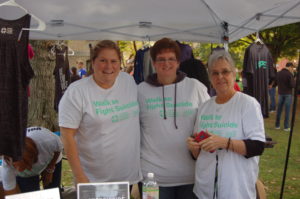 Mary Beth Liller, Program Associate for the Institute for Learning in Retirement at FCC, attended the event and worked in the merchandise booth with a few other FCC staff members. Suicide has personally affected Liller's life in the form of friends and her eight year old nephew, who struggles with mental illness and suicide even at a young age. Liller's role as a mother, particularly, makes the issue extremely important in her mind.
"As a parent, one of our greatest fears is to lose our children," Liller said. "I don't want any parent to go through that."
Suicide proves to be an extremely important issue when looking at statistics. According to the Centers for Disease Control and Prevention Leading Causes of Death Reports in 2016, suicide was the tenth overall leading cause of death in the U.S. and claimed the lives of almost 45,000 people and the second leading cause of death in individuals from the ages of 15-24.
Out of the Darkness is conducted in many different states throughout the country and works to decrease these numbers, as well as provide support for survivors of suicide loss, promote public policy, and raise money for new research on mental illnesses.
"Every one of those people leave behind family, friends, and loved ones who are left to grieve," Winston-Muir said. "It's a devastating loss for suicide loss survivors and it's 100 percent preventable if help is offered."
A large reason that many people do not receive the help they need when battling a mental illness is because they are afraid of the stigmas attached to the topic.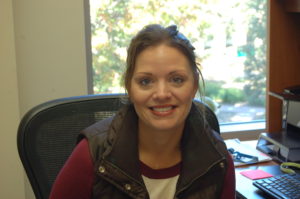 Natalie Bowers, department chair for Social Sciences and associate professor of human services at FCC, defines mental illness as "a condition where psychological systems are impacting your daily life and the degree that people experience these vary, although often described as distressful, deviant, dangerous, and different from "normal."
The media tends to portray mental illnesses inaccurately, which can have negative effects on people who are struggling, as well as how society views them, Bowers added.
"On one hand, it's great that there's a show out there bringing the topic of suicide and mental illnesses to the forefront of conversation but, on the other hand, there are a lot of inaccuracies. Potentially a lot of dangerous things that are shown and normalized," said Bowers on the topic of the popular Netflix series, Thirteen Reasons Why. "You have to be critical of media and pop culture and check to see what's factual and what's not."
Mentally ill characters are rarely the main protagonists in movies or TV shows, and, when they occasionally are, they are portrayed as dysfunctional in daily life or with wild extremities.
"There's very few 'successful' lawyers on TV portrayed with mental health issues, or starring roles where the person has a mental health issue that can still function really well," Liller said. "I think that there is still a huge stereotype about mental health, and I think the more information that gets out that's accurate or is portrayed accurately, the better off all of us will be."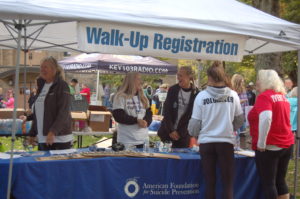 These stigmas tend to put off people who are struggling, as they fear the judgement and repercussions of their peers when being associated with the subject.
"By participating in the walk, and inviting others to join me, I feel we are able to cast light on the topic and help promote a message of hope and help," Winston-Muir said. "We need to remove the stigma that is too often associated with mental health and we need to create outlets and support for people to seek help and counseling when they need it."
Despite the event only happening once a year, FCC and its faculty members actively work to provide endless support to students who need it. Majority of staff member on campus are willing to listen and help if a student is struggling, and encourage anyone who needs someone to talk with to swallow their fears and reach out.
"So many people battle with mental health issues and because suicide affects so many people, not just those who have committed suicide, it is essential we have adequate and reliable information, resources, education, and advocates who can offer hope to those who are struggling," Winston-Muir said.