By: Nathan Moxley
With the semester in full swing and many students holding down a job, students strive to find a balance between classes, homework, social activities, and work.
Creating a set schedule tends to be one of the key aspects in allowing students to balance work, school, and a social life.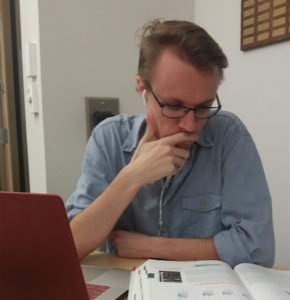 Brandon Witt, an engineering major and server at Buffalo Wild Wings, takes classes while working 20 to 25 hours a week and finds time to socialize with friends. Witts' schedule allows him to find appropriate times for work, school, his girlfriend, and other activities.
"Planning out a good schedule is one of the most important things you can do," Witt said. "I plan out my weeks in order to make sure everything gets done. This is my first year planning out my schedule ahead of time. I'm less stressed, I have A's in all my classes, and I find time to do other things like clean my room, which keeps me in a better mental and physical state."
Austin Dye, a Cougar Grille employee and student at FCC, said he checks Blackboard frequently to keep him on schedule.
"Checking Blackboard in between classes and during free time allows you to keep your homework straight," Dye said.
Dye works 15 to 22 hours a week, takes classes, and still has time for homework and personal life. He works out with his girlfriend twice a week in the mornings and has Fridays off to socialize with friends.
Dye explains that working on campus at FCC can have many benefits.
"One of the best parts of the job is they schedule me around my school schedule," Dye said.
Jason Witt, a general studies major at FCC, is also a sales associate at Sears who needs to prioritize for success.
"I prioritize school," said Jason Witt. "Between work and school I stay pretty busy, but I always try to put my school and homework first."
Witt works 30 hours a week and takes classes while keeping an active social life by spending time in between classes and Sunday afternoons with friends.
"I have all my classes in the mornings," Witt said. "That way they don't interfere with my work in the evenings. I tend to get my homework done after work or in between classes."
Creating a good schedule, checking Blackboard frequently, and prioritizing school are all useful ways for students to balance work, school, and social life.
Photo Courtesy: Nathan Moxley