By: Sam Howell
What's in style as the weather begins to get colder?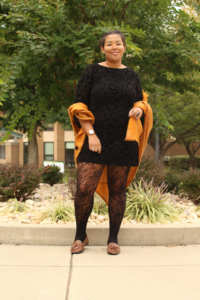 Hope Harley was wearing a long sleeve black lace dress with lace leggings. She has a mustard yellow scarf and brown shoes with rings as accessories.
"Fashion is important to me because it's a chance to express my inner fabulousness," Harley said. "It helps me meet new people."
Harley says that during the Fall/Winter season she likes mixing simple long sleeve dresses with leggings and scarves as a simple but fashionable statement.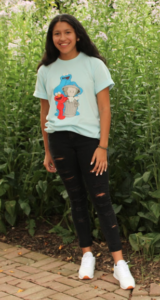 Leslie Cruz was wearing a Sesame Street x KAWS collaboration shirt with ripped black jeans and white shoes.
"I like to wear stuff that is different and not basic," Cruz said. "But I like to follow hype trends that are in fashion."
KAWS is an influential streetwear artist that does collaborations with iconic brands while putting his own stylistic spin on clothes. Cruz said her sister worked at a store that sold streetwear and highly desired fashion including big names such as Supreme.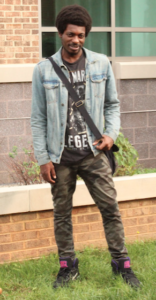 Tahar Ahman was wearing an acid wash jean jacket with a black band shirt, camo jeans and Nike Air Force shoes. All of these are considered to be in style, but Ahman took a unique spin on the trending fashion.
"Fashion is a means to express myself," Ahman said. "I like to focus my style to be non-mainstream."
Ahman tended to rely on weather and first instinct when deciding what to wear for the day.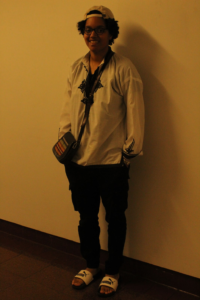 Mckenzie Stewart sported a uniquely fashionable outfit, informing that her shirt was from Morocco as a gift. She wore a  Tommy Hilfiger hat backwards, cargo pants, Puma slides and a over-the-shoulder bag.
"Mostly everything I'm wearing was given to me as a hand-me-down or a gift," Stewart said.
Big brand slides like Puma, Adidas and Gucci are just a few examples of those jumping on the trend of branded slides, mixing comfort with style.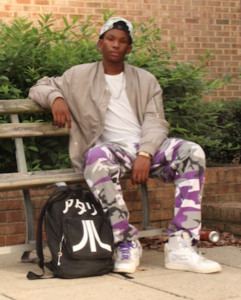 Ibrahim Ceesay sported a bold look from head to toe, starting with a pair of Nike Off-White sneakers with purple shoelaces that he said were actually from out of the country, as sometimes higher demand items like this can be hard to come by in the States. Simple supply and demand shows us that high demand items with low quantity usually leads to higher prices and overall less availability. Sometimes people will buy big brand items from out of country to help with price and accessibility.
Ceesay wore a pair of purple-colored camo pants that matched his shoes, creating a unique color scheme of purple, gray, white and black. For Ceesay's shirt, he wore a plain white tank top with a neutral color jacket and a chain to accessorize. To finish the outfit, he had a Japanese Atari backpack. Black clothing with bold white lettering, often in another language, is considered fashionable and a type of streetwear.
"First impressions are important to me," Ceesay said. "People dress up for job interviews to get a good first impression, but I think it's important to always give a good first impression."
Ceesay says that comfort definitely plays a role in his decision on what to wear, but even then he makes sure to accessorize with a belt or something special to make that statement.
Among those interviewed, comfortability was important and they like to make fashion statements when possible. Although fast fashion can sometimes be inaccessible either through quantity or price, it still seems that students at FCC are able to find the means to stay stylish in a reasonable and savvy way. Many students also informed that some of the clothes they were wearing were actually gifts.
Photo Courtesy: Sam Howell